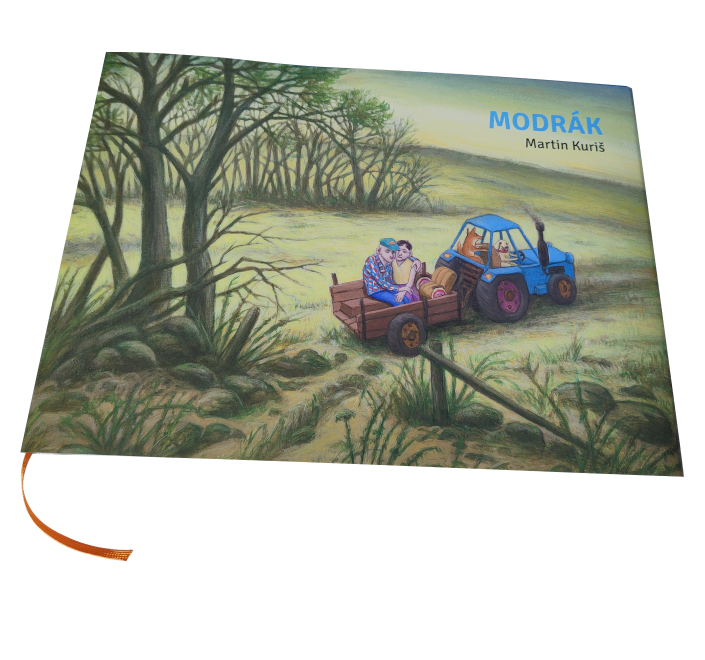 Quantity: 600 pcs
Binding: V8 stitched, 3 mm cardboard, straight spine, color block, color tab
Format: 270×192 mm wide
(back on the side 192 mm)
Block: 96 pages, 120 g woodless offset, 4/4 CMYK
Endpapers: 140 g wood-free offset, without printing
Cover: 130 g chalk mat, 4/0 + laminate mat 1/0
Cover: 150 g chalk mat, 4/0 + laminate mat 1/0
Illustration and text: Martin Kuriš
Release October 1, 2022
---
Annotation: The MODRÁK project was prepared for more than three years. During this time, I painted and created paintings and illustrations, which in form and content resulted from my surroundings and from the events that I thought about and that I experienced (the change of the four seasons, the rural landscape in northern Bohemia, the death of my mother, work in the fields and in the forest, etc…). The project is related to the region and the regional culture where I live. As is often the case in my painting work, this exhibition and book project ended up in a loop and created a story that I was aiming for in book form. In addition to the images, the text was gradually created. The publication contains both pictures painted on canvas and smaller illustrations on paper, which enabled a faster visual narration and a shift in the plot. In addition to the book publication, an exhibition project was also created, which was taken over by the Caesar Gallery in Olomouc (December 6 – December 31, 2022). In parallel with the pictorial (painting) narrative, I also realized a puppet set, which is now being completed and will serve as another possibility for the dramatic processing of the story in the future. The main character is a blue tractor (MODRÁK), dog Žulík, grandfather, grandmother and a fox. It is partly an autobiographical narrative. The story is about country life, secrets, magic, friendship, love and healing.
The book is recommended for readers aged 8 and up. Contains 186 paintings and illustrations (some large on canvas, some small on paper) all painted in tempera and oil.
The book was created with the kind support of the Charter 77 Foundation, the State Culture Fund of the Czech Republic and the Caesar Olomouc Gallery
The price of the book is CZK 380. Send orders for the purchase of the publication to: kurism@seznam.cz.
By purchasing the book, you support Konto Bariéry with the amount of CZK 50.




---
Ukázka knihy: